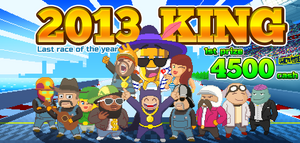 Start your engine! Defeat a bunch of players and win some loots !
Stage 1
Race other players to win race points and reach the next stage.
Cars:
Target:
Reward:
Stage 2
Things just got serious ! Are you BOSS enough to finish this stage ?
Cars:
Target:
Reward:
Stage 3
Impressive !! But are you FAST enought to make it to the semi final ?
Cars:
Target:
Reward:
Stage 4
Remember that : the most important is not to participate, it's to win !
Cars:
Target:
Reward:
After completing stage 4, you'll be eligible for the ranking rewards.
Rank 1st gets an unique worker (30 815wf).
Ranks 2nd to 10th get a limited worker.
Ranks 1st to 30th unlock Rosso Demonio (146).
SPEED BONUS
Complete the event before Day #3 to unlock the Jet Rig (allowed in final stage) !
Special Workers
Ad blocker interference detected!
Wikia is a free-to-use site that makes money from advertising. We have a modified experience for viewers using ad blockers

Wikia is not accessible if you've made further modifications. Remove the custom ad blocker rule(s) and the page will load as expected.