Story: 2015 is soon! Everyone is already celebrating but Mr. Coffee went missing after last night's party! We need to find him before something bad happens!
Going Out Where ?
First, we're going to need a car to travel around a Berliner Wagon should do.
Objective: Build and donate 1 Berliner Wagon
Rewards:
Baby's Got Our Back
A baby we found on the couch says he might have some information but only if we feed him ice cream!
Objective: Build and donate 5 Vessel Ice Cream
Rewards:
10 
Highway to Help
Apparently Mr. Coffee has been leaving some of his stuff on the road We need to pick it up before curious tourists can!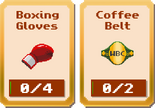 Objective: Collect Mr Coffee's stuff !
Race: Ice Ice Baby. Loot: Mr Coffe's Stuff
Cars Available:
Rewards:
Casino Swag Y'all
It seems Fat Cheez won a very expensive car last night in a casino! Should we try our luck there?
Objective: Win Swag Item !
Build and sell some Gold Tycoon to get items.
Rewards:
10 
The Raptor Shaman
With all the money we won, we were able to ask Rasta Raptor to help us explore our memories, but he needs some very specific ingredients!
Objective: Find Spiritual Items !
Build and sell some Soul Van to get items.
Rewards:
Interception
Rasta Raptor has sent us to explore ourown consciousness but the consciousness fights back!
Objective: Discover your past in battle !
Fight: Spiritual Quest (10 

). Loot: Memories.
Rewards:
Villains in Paris
It all makes sense now! Mr. Coffee flew to Paris and got arrested there! We need to bust him out!
Objective: Build and donate 20 Cop Enforcer
Rewards:
Mega Battle
Info
Objective: Build and donate more Cop Enforcer
Rewards: 20 to 6,000 

 and 100 to 3,000 

 depending on rank.
New Year Rewards
Get Chips to win awesome Free New Year Rewards! You can get them in the event Project 2015 or in the New Year Bonus Store (20 

 per spin). They will count for your Chip Meter. Every time you complete a chip meter, you get a Better Reward. Look how crazy they can be!
Special Workers
Past Events
Ad blocker interference detected!
Wikia is a free-to-use site that makes money from advertising. We have a modified experience for viewers using ad blockers

Wikia is not accessible if you've made further modifications. Remove the custom ad blocker rule(s) and the page will load as expected.